What To Do In Victoria Falls, Zimbabwe
Victoria Falls is not only known for its colossal waterfall, but an adventure capital for thrill-seekers and safari enthusiasts.
This small town of Zimbabwe is near the border of Botswana and Zambia. Zimbabwe is one of the countries right above South Africa.
Just to give you a little bit of historical background, Zimbabwe was colonized by the British. After receiving their independence from Great Britain in 1980, they were governed by prime minister Robert Mugabe until his forced resignation in 2017. So Zimbabweans have had decades of struggle.
THINGS TO DO IN VICTORIA FALLS
Bungee Jump
The jump is at the center of the 364-foot (111 m) Victoria Falls Bridge.
It was my first time bungee jumping and let me tell you, I was nervous! This is a story I read where a young woman fell into the crocodile-infested Zambezi river years ago. Purchased extra travel insurance just in case.
How was the experience? I screamed all the way down but I SURVIVED, lol!
After the adrenaline rush from the 5-second freefall subsided, I felt a sense of accomplishment. I did something that I never desired to do years ago and turned out to not be bad after all. Definitely don't mind doing it again.
My question to you is, would YOU jump?
See the falls from Zimbabwe side
Victoria Falls is listed as one of the 7 Natural Wonders of the World. You can see the mist from town.
I saw the falls through Victoria Falls National Park but I think a better way to take in its magnificent beauty is by helicopter or a 15 minute (or 30 minute) micro-flight.
To enter into the park, there are different prices depending on your nationality, but the price for passport holders outside of Southern Africa region is $30.
Spend a full day at Chobe National Park
After looking at the list of activities offered to tourists in town, it seemed like the only activity in Botswana was a safari. You can do an overnight, 1 day, or multi-day safari. And I wasn't sure what else there is to do in Botswana that isn't too far from the border. The Kazungula border is a 1-hour drive from Vic Falls.
From Victoria Falls, you can visit Botswana as a US Citizen using the $50 Kaza UniVisa for day trips. One way to get this tourist visa is at your port of entry into Zimbabwe. I got mine at Vic Falls airport.
This excursion includes a river cruise, buffet-style lunch, and game drive to see the Big 4. Pickup time varies but for me it was 7:30 AM. Drop-off was around 5 PM.
On the game drive, I saw the following animals: Impalas, Baboons, Mongoose, Buffaloes, Elephants, Crocodiles, Hippos, Kudus, Giraffes, Zebras, and Tortoise.
Walk with Lions
This is a controversial topic and I could have done away with not mentioning it. So maybe you're wondering, why in the hell would I want to walk with lions? Well, I saw a traveler who walked with lions last year and I was like "Wow! I so want to do that."
I didn't even know you could do such a thing since lions can attack or kill humans. I love seeing wildlife and I've been wanting to see wild lions upclose while on a safari but I haven't. Closest encounter was at Kruger National Park and the lion was about 500-700 ft (150-200 m) away. Barely visible to the eye.
Bare in mind that I was already against drugging or abuse of any animal for tourism. In this situation, I failed to do any research about the organization or read articles about the ethics of lion tourism beforehand. All I thought about is how amazing it would be to see a lion upclose and personal.
From doing some reading, the organization's goal is to help increase the declining lion population. They claim that once cubs turn 18 months, they are released into the wild. They claim the lions are not de-clawed.
I cannot prove if any of those claims are true or not. All I know is the lion cubs did not look sedated. We saw a third cub join in out of nowhere and the staff spent 10 minutes trying to get the third cub to go away. So as far as I could tell, the lions 'seem' wild to me.
For curious minds, the name of the organization is Lion Encounter.
Visit Livingstone, Zambia
The Zimbabwe border post is a 20 minute walk from town. If there is no line, it will take 2 minutes to get a stamp. Then you can either walk to the Zambia border post or take a border taxi.
If you take the border taxi, it will take 3 minutes. If it's a shared ride, the cost is 6 Zimbabwe bond notes.
After getting a stamp from Zambia, there is a taxi stand within walking distance. Took a taxi to Jollyboys Backpackers.
I was only able to spend about 3 hours in Zambia because I didn't get to the border till evening time. The Zimbabwe and Zambia border posts close at 9 pm.
Spent my time hanging out with strangers I met after my bungee jump and a few Jollyboys guests. A mix of British, Australian, Spaniard, and American.
We ate a meal a few blocks away. It took 2.5 hours for the food to be ready for 5 of us. I had no kwacha (Zambian currency) so I paid in rands. The rice sort of reminds me of Nigerian fried rice.
Visit a Village
This particular village is about 12 miles (21 km) away from Victoria Falls. Visited 5 homes, including the village head. There are about 1,000 people living in this village. 
Other Activities To Do
See Victoria Falls from Zambia (via Mosi-oa-Tunya National Park)
Swimming at Devil's Pool (open during the drier months of the year)
Chobe National Park Overnight or Multi-day safari
Game drive at Zambezi National Park
Helicopter Flight over Victoria Falls
Microlight flight over Victoria Falls
Canoeing
Gorge Swing
Bridge Zipline
Sunset Cruise on Zambezi River
White Water Rafting
Crocodile Farm Tour
Boma dinner
Read: Why YOU should visit Southern Africa
GETTING THERE
My trip did not start in Zimbabwe. Started in South Africa and I flew into Victoria Falls from Cape Town via British Airways with a stop in Johannesburg.
I recommend getting the Kaza Univisa if you'll be visiting Zambia or Botswana (for a day trip only). Available to at least 65 countries. You can obtain the visa at the airport or at any port of entry.
TRANSPORTATION
It depends on where you are staying and where you decide to go. You can use a private or shared taxi, or walk. Otherwise, the majority of activities listed above cover transportation (pickup and dropoff).
I also used public transportation a few times, which is like South Africa's minibuses or Nigeria's danfo buses. It's the cheapest way to get around but less convenient. The driver has to wait for the van to fill up before he can start driving. They also don't use their air-conditioning.
FOOD
I wasn't interested in eating food not local to Zimbabwe when in town so I cannot comment on what else is worth checking out. There are restaurants that serve food palpable to Americans and Europeans. There is Chicken Inn, Shearwater Café, Pariah State, a Pizza shop, Lola's Tapas, and a few others.
For grocery shopping, there are two: OK and TM. They are within walking distance of each other. Sales tax on food items was 15%.
If you're looking for a Zimbabwean meal with flavor, go to a village. The 'local' food I was served at Mama Africa Eating House was a modified version.
The meal below is called "sadza ndiuraye."  The small white roundish thing to the left is called sadza. It's made out of maize (corn). Kind of like the fufu version in some African countries.
It taste like a softer and better version of South African pap. Sadza is to Zimbabweans what rice is to the Chinese or pasta to the Italians.
The taller white thing is white rice. The rest are greens, tomatoes, and butternut squash. The beef stew to go along with this dish is in the hotpot.
I ate sadza like 4 times in a week. The meal at Mama Africa cost $15. Where I was staying, $5. In the village, $2. Guess which one tasted the best? The meal from the village.
Maheu is a drink made out of maize. They have different flavors. It tasted ok. Nothing to rave about.
LODGING
Airbnb, hostels, and 3 to 5-star hotels are all available.
If not for wanting to be able to walk into town instead of paying for taxis, I would have chosen Pennywise Cottages. Interested in booking? Use the map below.
If you're looking for a hostel in Zimbabwe, I don't recommend Shoestrings. Not the private room or the dorm room. I've stayed in over 20 hostels around the globe and Shoestrings needs renovation and a new way of thinking.
If you'll be staying in Zambia and don't mind hostels, I recommend Jollyboys Backpackers. While in Zambia, I had a tour of the hostel and it looks visually aesthetic and clean. The dorm rooms are air-conditioned compared to Shoestrings.
Book through Hostel World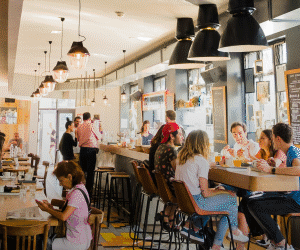 COST BREAKDOWN
| EXPENSES | PRICE (IN US DOLLARS) |
| --- | --- |
| One-way flight to Zimbabwe | $198 |
| Taxi from the airport | $30 |
| Lodging (private room in hostel) | $55 per night |
| Kaza UniVisa | $50 |
| Victoria Falls National Park entrance fee | $30 |
| Bungee Jump  | $160 |
| Lion Walk | $150 |
| Chobe National Park Full Day | $120 |
| Dinner (Mama Africa Eating House with 1 alcoholic drink) | $19 |
| 500g Dendairy Plain Yogurt from grocery store | $7.39 |
| Lunch at the village | $2 |
TIPS
Weather

: They say January and February are one of the hottest and rainiest months. It was humid and hot every day I was there in January (in the 80s degF). When it rained, it rained very briefly.
English is widely spoken in Victoria Falls and Livingstone (Zambia)
Zimbabwe has a multi-currency system so you can use US Dollars (preferred) and some other currencies. Cards are accepted in some places. They also use bond notes, which you can exchange when you get there.
They have a cash shortage so you might have to go to Zambia if you run out of US dollars.
If you get into any taxi, negotiate the price.
If you want tasty Zimbabwean food, skip the restaurants in town and go to the village. The restaurants are overpriced.
You can book activities when you arrive. At least

a day before.

There are several tour agency offices. If you book several activities with one agency, ask for a discount.

Zimbabwe has the highest price of fuel in the world. Fuel was about $3.33 per liter while I was there.

There are mosquitos so make sure to bring mosquito spray.

You'll find animals walking freely on the streets. I saw only baboons and warthogs.
FINAL THOUGHTS
I enjoyed myself in Zimbabwe. The biggest highlight was visiting the village. The vibe of the people who live in the village versus in Victoria Falls is different.
But overall, I could sense that Zimbabweans are warmhearted people. From the taxi drivers to the tour operators to the restaurant waiters to the backpacker staff.  
Victoria Falls is not a cheap destination but the town heavily depends on tourism. 
If I get to visit Zimbabwe again, I would like to explore other parts by car.
Disclaimer: Some links in this article are affiliate links, which means if you do book through my link, I will get a small commission at no extra cost to you. Thanks for your support!
---
Have you been to Zimbabwe?
Did you enjoy this post? PIN IT!