Top Hikes In Rocky Mountain National Park
If you're visiting Colorado, Rocky Mountain National Park is one of those places you need to make a priority to see. Unrelentingly beautiful scenery filled with majestic mountains, wildlife, wildflowers, alpine forests, and over 350 miles of hiking trails.
The Rockies is more than 3,000 miles (4,828 km) and reaches into Canada. So it's impossible to see all what this park has to offer in a day.
Read: Views of Canadian Rockies at Banff
GETTING THERE
There are 4 entrances to the national park. I've been through two of them, Wild Basin and Beaver Meadows. Both entrance are about 1.5 hours from downtown Denver.
Beaver Meadows is very busy on the weekends all summer long so be sure to set out early. Or arrive mid-afternoon.
GENERAL INFORMATION
The park is open all year round and 24 hours a day. The most popular time to visit RMNP is from June to September. Certain roads are closed during the year at certain months of the year. Check NPS site for more details.
If you purchase the America the Beautiful pass ($80), your entrance cost is covered. A one-day pass is $25 for 16 or less passengers per car. A seven-day pass is $35 for 16 or less passengers per car.
WORD OF CAUTION
At all the park entrances, the elevation is between 8,000 and 9,000 feet (2,440-2,740 meters) above sea level. On the trails, the elevation will be higher.
Altitude sickness is real. Every individual will react to it differently so pay attention to your body. And it doesn't matter how fit you are. Unless you are living in Colorado or coming from a high altitude area, you might experience some symptoms. Stay hydrated and take as many breaks as needed. You can even buy oxygen pressure tanks to err on the side of caution.
On my first visit to Rocky Mountain, I experienced shortness of breath, fatigue at every incline, and a light headache that all disappeared after the hike was over. But on all other hikes while living in Denver, I felt normal.
ROCKY MOUNTAIN DAY HIKES
BEAR, NYMPH, DREAM, AND EMERALD LAKE
Hike Date: August 2017
Distance: 4.4 miles (1.6 km)
Hiking time: 4 hours roundtrip
Level of Difficulty: Easy to Moderate
All these trails start at Bear Lake Trailhead. First hiked around the 0.8 mile Bear Lake loop. Very easy, flat, and scenic.
View this post on Instagram
Next up was the lily pad covered Nymph Lake. Elevation gain of 225 feet.
On the trail to Dream Lake, I saw a big female elk. It took me by surprise when I heard it in the woods. It came closer and I was 2 to 3 feet from it. This was the first time during a hike that I encountered such a big wild animal upclose.
Dream Lake had a better scenery than Nymph Lake. Also bigger in size.  Elevation gain of 605 ft.
The last lake was Emerald Lake. The view was amazing and worth the shortness of breath! You can see Tyndall Glacier. Most of it has melted. There is a small waterfall from afar.
Hiking back took about 30 to 35 minutes to reach the parking lot from Emerald Lake.
Other wildlife spottings were: gray jays, steller's jays, and golden-mantled ground squirrels.
OUZEL FALLS TRAIL
Hike Date: May 2018
Distance: 5.4 miles (8.7 km)
Hiking time: 4 hours roundtrip
Elevation: 8500 feet (1760 m)
Level of Difficulty: Moderate
This trail starts at the Wild Basin entrance. The road to the Wild Basin Trailhead is gravel and narrow. Hard to fit two vehicles. Depending on the time you arrive, the Wild Basin Trailhead parking lot might be full. Ended up parking a quarter-mile away.
First saw Copeland Falls, the Lower and Upper falls, and Calypso Cascades. You will see rapids along the way.
Got to Ouzel Falls two hours later. Elevation Gain of 950 feet. The weather the entire time was perfect for a hike. No sun, cloudy skies, and some drizzling here and there.
HORSESHOE FALLS / ALLUVIAL FAN
Hike Date: August 2018
Distance: 0.5 miles roundtrip
Level of Difficulty: Easy/Moderate
The falls can be seen from the roadside. Hiking will involve some scrambling. This used to be where a major dam failed and caused flooding.
There is a trail that leads to Lawn Lake from here. The hike is 12.5 miles roundtrip. You can locate Horseshoe Falls by driving north of Beaver Meadows Entrance Station towards Fall River entrance and turn left after Deer Ridge Junction but before Fall River.
If you want to be adventurous, you can scramble above the falls to trace where the water is flowing from.
CHASM FALLS + DRIVE ON OLD FALL RIVER ROAD
The views are stunning on this 9-mile (14 km) one-way dirt road. It's steep and winding with no guardrails. You'll have to stop a couple of times because the views are spectacular! If you are afraid of heights, the drive might cause some anxiety but it's not that bad.
Below is a view of Chasm Falls. It's an easy, short trail that will take no more than 5 minutes.
You see melting glaciers and waterfalls near and far. The road is open July through September only.
LODGING
There are many places to stay near the park depending on the entrance. Find and book your stay below!
If you need a budget accommodation and don't mind the commute from Denver, try Hostel Fish. Located right in downtown Denver. I've stayed there once. They offer dorm and private rooms.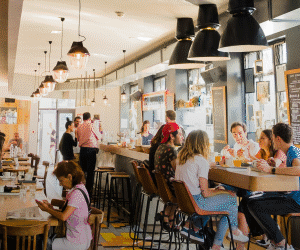 Disclaimer: Some links in this article are affiliate links, which means if you do book through my link, I will get a small commission at no extra cost to you. Thanks for your support!
---
Have I convinced you to visit Rocky Mountain National Park?
Did you enjoy this post? PIN IT!