Garden Route: Wild Spirit Backpackers Lodge Review
Wild Spirit Backpackers Lodge is popular for a reason. The property is hidden in the forest and has stunning views.
If you're traveling along the Garden Route, be sure to check them out. It's only a 5 minute drive from the N2. They are in Nature's Valley.
Booking Date: January 2019 (2 nights)
ATMOSPHERE
The staff are warm and welcoming. If you need help booking any excursion, they are willing to help you. They booked my kayak and lilo excursion at Tsitsikamma National Park.
There were families with kids, solo travelers, and couples staying on the property. 
They have camp fires, a yoga room, piano room, and an open deck, so there are plenty of opportunities to socialize with guests if you are traveling solo. Dinner time was a great time for me to socialize with fellow guests.
The hostel used to be a bed and breakfast. It's owned by a family.
The deck is an open terrace facing the mountains of Tsitsikamma. 
View this post on Instagram
LOCATION
Besides having a car, you can get there by Baz Bus, other bus companies (e.g. Greyhound, Intercape), or minibus taxis.
If you need to rent an automatic car, try Around About Cars. They have an office in the 3 major cities (Johannesburg, Durban, Cape Town). I've been to all 3. Customer service is great. Cost can vary depending on how many days you'll be renting, insurance, and vehicle type.
ROOM
Stayed in the Dove dorm, which is on the second level and has a beautiful view of the mountains. I paid R200 ($14 USD) per night.
The entrance door comes with a keypad entry. There were 6 single beds in this room with an en suite bathroom and balcony. No lockers or bunk beds.
The beddings were clean and the bed was comfortable enough. 
In addition to dorm rooms, they offer camping tents and private rooms with en suite bathrooms. Or you can bring your own tent.
AMENITIES
There are bicycles available to rent.

They have a tree house deck where you can catch a sunset. 

Wifi is only available on the deck or in close proximity.

There is a kitchen right below the deck with 2 fridges and several stovetops to use. Cookware and utensils are provided.
Shuttle service for a hike and other things are available. Some for free or a fee.

There are 3 hiking trails. I did the waterfall hike, which takes up to 1 hour roundtrip. 
FOOD
Breakfast is the same everyday. There are 2 options:
Bread, plain yogurt, jam, butter, coffee, tea, fruits, muesli, wheat flakes, and milk (from a local farm) all for R60 ($4 USD)

All the options above with fried eggs for R80 ($6 USD)
They offer daily communal dinner for R100 ($7 USD). There is a vegetarian option, which is R90 ($6 USD). All served on the deck. You must register for dinner in advance. 
The local farm, Nature's Way Farm Stall, is nearby. They serve and sell food. You can find raw and pasteurized cow's milk, quiches, a variety of bread, dried fruits, ice cream, different pastries, and much more.
FINAL THOUGHTS
I will definitely return back when next I'm in South Africa and I get a chance to do the Garden Route again. Hard to resist the majestic views and welcoming staff.
As for the downsides of staying at Wild Spirit Backpackers Lodge, maybe access to wifi in the rooms would be nice. And the shower in the bathroom needs a door or curtain to prevent water from spilling over.
Did I convince you to book a stay? Then book through Hostel World!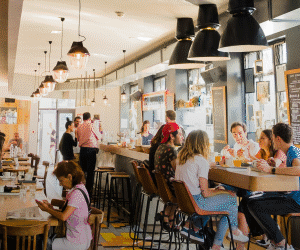 Disclaimer: All opinions expressed are my own. This was not sponsored by Wild Spirit. I paid for 100% of my stay. Some links in this article are affiliate links, which means if you do book through my link, I will get a small commission at no extra cost to you. Thanks for your support!
Did you enjoy this post? PIN IT!